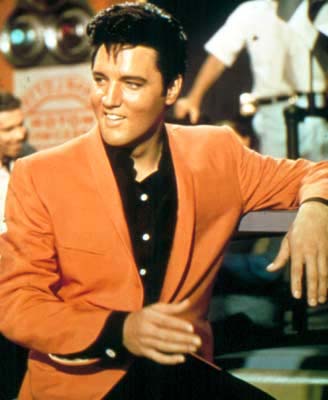 Elvis
Aaron
Presley

(1935 - 1977)


According to rabbinic law, a Jew is defined as either a person born of a Jewish mother or one who has been converted to Judaism. Thus Elvis Presley was Jewish the old fashioned way – through maternal descent, while Marilyn Monroe, Elizabeth Taylor and Sammy Davis Junior all converted.
Historian and biographer Elaine Dundy writes about Elvis Aron Presley's Jewish heritage in her book "Elvis and Gladys":
"...Nancy Burdine was married to Abner Tackett (Elvis' great great maternal grandmother). Nancy was of particular interest to Gladys for her Jewish heritage, often remembering Nancy's sons for their Jewish names Sidney and Jerome. Nancy and Abner had a daughter Martha who married White Mansell. The daughter which they named Octavia, nick-named Doll, who was Elvis' maternal grandmother."
"...Doll and Robert had nine children. Gladys Love was the fifth daughter born followed by 3 more brothers and one sister. After his mother died, Elvis personally sought to design his beloved mother's gravesite which included a Star of David on Gladys Love Presley's tombstone. The decision was made by him in honor of his Jewish heritage. Something his mother was proud of and acknowledged to Elvis at a very early age.
Later in life, when Elvis discovered the teachings of Judaism, Zen Buddhism and the occult teachings through his hairdresser Larry Geller he became familiar with the Hebrew alphabet and its symbols. From then on part of his on-stage wardrobe throughout most of 1977 Elvis wore a "Chai" necklace. When Charlie Hodge asked Elvis why this particular piece of jewelry was so important, Elvis replied, "I don't want to miss out on goin' to heaven on a technicality." Note that two letters form Chai, the Hebrew word for "life."
"Aron" was the spelling the Presley's chose, to resemble his twin brother's middle name "Garon". Toward the end of his life Elvis sought to change the spelling to the traditional and biblical "Aaron", in the process he learned that the official state records had listed it as "Aaron" anyway, and not "Aron" as on his original birth records. "Aaron" is the spelling his family chose for his tombstone.
Courtesy of:
http://www.amuseum.org/jahf/nomination/elvis_article.html
See also:
http://www.elvispresleynews.com/JewishElvis.html