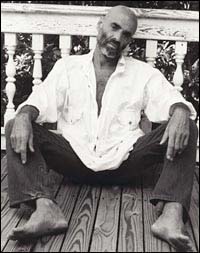 Shel
Silverstein
(1930 - 1999)


Sheldon Alan "Shel" Silverstein (September 25, 1930 – May 10, 1999) was an American poet, songwriter, musician, composer, cartoonist, screenwriter, and author of children's books. He was also known as "Uncle Shelby".
Silverstein claimed he never studied the poetry of others, and therefore developed his own style. His style was laid-back and conversational, occasionally employing profanity and recent slang. He wrote with an unaffected, un-self-conscious manner that kept attention focused on the subject matter, not the language. Silverstein believed that written works needed to be read on paper, and with the correct paper for the work. He usually would not allow his poems or stories to be published unless he could choose the type, size, shape, and color of the paper himself. Being himself a book collector, he took the feel and look - the paper, the type, the binding - of his titles very seriously. He did not allow his books to be published in paperback, but this doesn't seem to have affected his popularity: his books sold at least 14 million copies.
Biography
Born and raised in Chicago, Illinois, Silverstein's talents were already well-developed by the time he served in the US armed forces. Silverstein was stationed in Japan and Korea in the 1950's, and while in the military, he was a cartoonist for the Pacific edition of the military newspaper, Stars And Stripes. After serving in the military, Silverstein became a writer, photographer, cartoonist for Playboy in 1956 (and ended up living in the Playboy Mansion for an extended period of time), but he is best known for writing and illustrating his children's literature including The Missing Piece, A Light in the Attic, Where the Sidewalk Ends, Falling Up and The Giving Tree. He also wrote Uncle Shelby's ABZ Book, a satirical mock children's book, and created Different Dances, a coffee-table book of wordless, adult-themed cartoons.
As a songwriter, Silverstein kept a low profile but cast a long shadow! He tended to shun publicity and even photographers. Nonetheless, his musical output included many songs which were hits for other artists. Most notably, he wrote the music and lyrics for "A Boy Named Sue" that was performed by Johnny Cash (for which he won a Grammy in 1970); "One's On the Way" (which was a hit for Loretta Lynn), and "The Unicorn Song"; which, despite having nothing to do with Ireland nor Irish culture, became the signature piece for The Irish Rovers in 1968 and is popular in Irish pubs all over the world to this day. He wrote the lyrics and music for most of the Dr. Hook songs, including "Cover of the Rolling Stone," "Freakin' at the Freakers' Ball," "Sylvia's Mother" and the cautionary song about VD, "Don't Give a Dose To the One You Love Most." He also wrote many of the songs performed by Bobby Bare, including "Rosalie's Good Eats Cafe", "The Mermaid", "The Winner", and "Tequila Sheila". The song "The Ballad of Lucy Jordan," recorded in 1979 by Marianne Faithful and later featured in the film Thelma & Louise, was also by Silverstein.
During his short career as a producer, he co-wrote the screenplay Things Change with David Mamet, and was nominated for an Oscar for his music for the film Postcards from the Edge. He also composed original music for several other films, and displayed a musical versatility in these projects, playing guitar, piano, saxophone and trombone.
He continued to write colloquial poetry on occasion throughout his life, including a rap version of Shakespeare's Hamlet that was published (on yellow-beige specialty paper) in Playboy magazine in 1998.
Silverstein was posthumously inducted into the Nashville Songwriters Hall of Fame in 2002.
In 2005, Silverstein's most recent book, entitled Runny Babbit, was published. As the title suggests, every poem and illustration in the book consists of spoonerisms.
Silverstein died on May 10, 1999 in Key West, Florida of a heart attack.
Courtesy of: