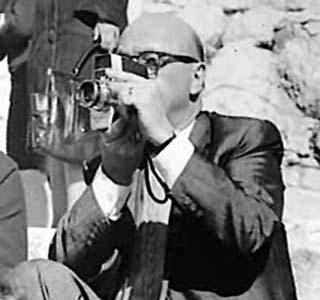 Abraham
Zapruder
(1905 - 1970)


Abraham Zapruder (May 15, 1905 – August 30, 1970), a manufacturer of women's clothing, filmed U.S. President John F. Kennedy's motorcade traveling through Dealey Plaza in Dallas, Texas and unexpectedly recorded the entire John F. Kennedy assassination.
Background
Abraham Zapruder was born into a Russian-Jewish family in the city of Kovel in Ukraine (then under the Russian Empire). He received only four years of formal education in Russia. In 1920 during the turmoil of the Russian Civil War, he emigrated to the United States and settled in Brooklyn, New York.
In 1941, he moved to Dallas to work in the garment industry and co-founded a company called Nardis. In 1959, he founded his own company that produced two clothing brands, Chalet and Jennifer, Jr.'s. His offices were located in the Dal-Tex Building, just off Dealey Plaza.
Zapruder was a supporter of the Democratic Party and a fan of President John F. Kennedy. When he learned that Kennedy's motorcade would pass through Dealey Plaza, he decided to film the procession with his Bell & Howell movie camera. His film captured the assassination of the President and has become one of the most studied pieces of film in history.
Zapruder, realizing that he may have critical evidence, agreed to turn the footage over to Secret Service agent Forest Sorrels, but would only give him a copy. He retained the original footage for himself and began shopping it around to media outlets. Zapruder sold the original and the publishing rights to his film to Life magazine for $150,000. He donated $25,000 of the proceeds to the widow of slain Dallas police officer J.D. Tippit. After his death, his heirs recovered the rights to the film.
While waiting for the film to be processed, he appeared on Dallas television station WFAA where he gave a now famous interview about an hour and a half after the assassination. He later screened the footage for law enforcement officials and several journalists including Dan Rather, who was a young CBS reporter at the time.
Zapruder later testified before the Warren Commission and at the 1969 trial of Clay Shaw. He died of cancer in 1970 in Dallas.
Zapruder as assassination witness
Zapruder filmed the assassination using a then top-of-the-line Model 414 PD 8mm Bell & Howell Zoomatic Director Series movie camera purchased in 1962 loaded with Kodak Kodachrome II safety film. This historic film footage is the "Zapruder film". Zapruder, who suffered from vertigo, had to be steadied by his secretary Marilyn Sitzman as he stood atop a pedestal that was part of a concrete pergola.
After the assassination, Zapruder returned to his office where a reporter and secret service agent Forrest Sorrels turned up within an hour. Realizing the importance of the footage but still shocked by what he had seen, Zapruder agreed to turn the film over to Sorrels provided that it was only for the use of the Secret Service and others investigating the assassination, as he also wanted to sell the film. The group took the film to television station WFAA where Zapruder appeared on air less than two hours after the assassination. But WFAA had no capability to develop 8mm film and so it was taken to Eastman Kodak who agreed to process it immediately.
Three copies were run off, with two going to the Secret Service and one to Zapruder. That night, Zapruder is said to have had a nightmare in which he was walking through Times Square and saw a booth advertising "See the President's head explode!" He determined that, while he wanted to make money from the film, he did not want the full horror of what was seen to be made public. On November 25, 1963, Zapruder sold the film to Life Magazine for $150,000, divided into six annual payments of $25,000. Zapruder donated his first $25,000 payment to the widow of murdered Dallas policeman J.D. Tippit. Part of the deal with Life was that Frame 313, showing the fatal shot, would not be shown.
Testimony
At 9:55 p.m. Dallas time on November 22, United States PRS Special Agent Maxwell D. Phillips sent a hand-written memo (Warren Commission Document, CD87) to U.S. Secret Service Chief James Rowley that accompanied one of the first generation copies said of Zapruder's origins of at least one shot, "According to Mr Zapruder the position of the assassin was behind Mr Zapruder." Behind Mr. Zapruder was the Dealey Plaza grassy knoll. However, in his testimony to the Warren Commission Zapruder was less certain:
Mr. LIEBELER. Did you form any opinion about the direction from which the shots came by the sound, or were you just upset by the thing you had seen?
Mr. ZAPRUDER. No, there was too much reverberation. There was an echo which gave me a sound all over. In other words that square is kind of--it had a sound all over.
Courtesy of: