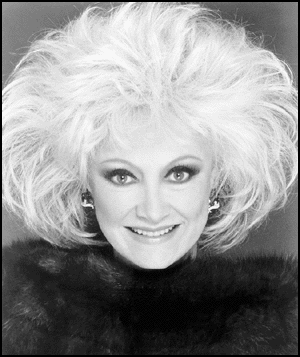 Phyllis Diller
(1917 - )
Phyllis Diller has been entertaining people for over 40 years with her night club acts, movies, television, Broadway and theater roles, commercials, tours and books. Her delivery of humor is like a machine gun in that she turns out rapid fire short jokes. Her attire and make-believe family are another source of her comedy.
She was born in 1917, in Lima, Ohio, the only child of Frances and Perry Driver. She was given piano and voice lessons with the encouragement of her mother. After attending a music conservatory in Chicago, she realized that the concert stage was not for her.
She met and married Sherwood Diller in 1939 and then moved to San Francisco. She had wanted nine children but after having five in ten years, she stopped. Money was always a problem in the Diller household. and she went to work to supplement their income. She went to work for the San Leandro Observer where she wrote articles about the shops who advertised. It didn't take her long to have a column on household hints and humor for the newspaper.
Phyllis Diller learned to be concise and sharp in her writing, which became very valuable to her as a comedy writer. She came across the book, "The Magic of Believing," which she read many times. The book gave her confidence to believe in herself. It also changed the entire course of her life as she learned how to focus on one task at a time and not on many.
During this time, Diller was creating one-liners which she used at parties, coffee clutches and on the grocery line. Her husband encouraged her to expand her audience. She went to the Red Cross and volunteered to entertain at the veterans hospital in Presido. This gave her the impetus and encouragement to go before new and larger audiences.
She auditioned and was hired by the Purple Onion, a night club, which lasted eighty-nine weeks. For the next four years, she received bookings for her act without the benefit of a manager, publicist or writer. A major breakthrough occurred when she appeared on the Jack Paar Show. She was a instant success on national television as a comedienne.
In 1965, she divorced Sherwood Diller and married Ward Donovan, an actor. This marriage ended in divorce a few years later.
She starred in her own television show, "The Phyliss Diller Show," in the 1966-67 season and the following year, she had another television show. She was considered to be one of the top comediennes in the late sixties.
In 1971, she went on a piano concert tour with symphonies from Hawaii to Florida, playing mostly Beethoven and Bach. She did this for a period of ten years and played with more than 100 symphonic orchestras. Her last concert was in 1981.
Diller was an author who wrote four successful books. She went with Bob Hope to Vietnam to entertain the troops during Christmas and co-starred with him in movies.
Phyllis Diller received many humanitarian awards, patriotic citations and honorary degrees. She was never afraid to break new ground in the entertainment industry. She is a comedienne's comedienne.
Courtesy of:
http://www.jewishvirtuallibrary.org/jsource/biography/Diller.html