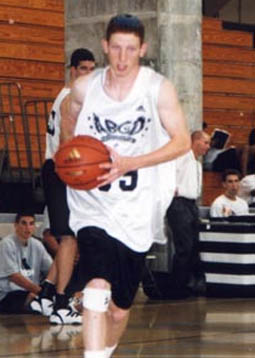 Tamir
Goodman

(1982 - )
Tamir Goodman is an Orthodox Jewish Basketball player who was released from his verbal commitment by the University of Maryland, College Park after they couldn't meet his religious needs.
Courtesy of:
http://en.wikipedia.org/wiki/Tamir_Goodman
'Jewish Jordan' Tamir Goodman signs with Maccabi Tel Aviv
By Eli Sahar and Ronen Dorfan, Ha'aretz Correspondents and AP
Former Towson University guard Tamir Goodman, who has earned the name the "Jewish Jordan," has signed a three-year deal with Maccabi Tel Aviv basketball team.
"I've always wanted to play in Israel and be in my country," Goodman said Monday.
"My mother would always tell me how important it was to her when she grew up in Israel."
Terms of the contract were not disclosed.
Goodman's brilliant high-school career led to his nickname "Jewish Jordan." In games for "Talmudic Academy" in Baltimore, Goodman averaged more than 35 points per game, an ability that drew the attention of writers from the New York Times and Sports Illustrated, as well as documentary film-makers from both sides of the Atlantic.
He then burst onto the international scene three years ago when accepting - and later surprisingly rejecting - a basketball scholarship from Maryland.
The fact that Goodman was an Orthodox Jew, wore a yarmulke and refused to play on the Sabbath captivated many, especially when it appeared he was headed to College Park.
He later took a scholarship to play at Towson and started for much of his freshman year in 2000-2001. Goodman then left the Tigers after an incident where he said that coach Michael Hunt threw a chair that hit him in the locker room after a game last December.
Goodman and his family wanted Towson to discipline Hunt, but the school refused. The sophomore guard then left the team, but finished his classes through the spring.
Goodman also kept his religious vows at Towson, never playing or traveling on the Sabbath, even skipping one game and part of another when the Tigers played in their conference tournament in March 2001.
Maccabi Tel Aviv plays in three leagues and long has been one of the better teams on the European basketball circuit. Goodman will go to Israel within the next month to begin practice with the team.
"It's an honor to play there," Goodman said.
He also won't have to play on the Sabbath in this league, something the 1.91-meter (6-foot-3) guard had put in his contract.
Courtesy of: