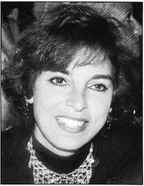 Julie Heldman
(1945 - )
Julie Medalie Heldman personified the Virginia Slims Woman-bright, witty, adventurous, worldly, indomitable.
She thrived on challenges-whether it was joining the Slims tour in mid-season after a bout with bronchitis, going up against Evonne Goolagong in a critical Bonne Bell Cup match, or hacking her way, unseeded, through the field at Forest Hills.
And she succeeded well enough to rank among the U.S. Tennis Association's Top Ten nine times, from 1963 through 1975, playing the kind of tournament schedules that turn legs and mind to jelly, and lesser players to seed.
Julie's rise to tennis stardom was not entirely unexpected. Her mother, Gladys Heldman, competed at the U.S. Championships at Forest Hills and at Wimbledon, and began World Tennis Magazine in June, 1953. Under her sole control, the magazine became the world's largest tennis magazine, which she sold to CBS Publications in 1972. Gladys Heldman was responsible in large part for the beginning of modern women's professional tennis, obtaining the sponsor, Virginia Slims, organizing the tournaments, and galvanizing player support for the beginning years of the women's pro tour. She was inducted into the National Tennis Hall of Fame at Newport, Rhode Island.
Julie's father, Julius, a retired Vice President of Shell Oil Company, also excelled in tennis, winning the National 18-and- under Tennis Championships in 1936. As both her parents were graduates of Stanford University, so did Julie attend their alma mater, majoring in History, and becoming fluent in French and Spanish.
Julie's tennis career began at the age of eight, and her first big title came when she won the Canadian National 18-andunder Championship-she was only twelve at the time. She later won the U.S. Junior Title in 1960 and 1963. Then she got serious.
Ranked as high as #2 in the U.S. ('68-'69), and #5 in the world ('69&'74), Julie posted wins over Billie Jean King, Margaret Court, Evonne Goolagong, Chris Evert, Martina Navratalova, Virginia Wade and Rosie Casals, amongst many others. She reached the Quarter Finals of Wimbledon in 1969, and the Semis of the French Open ('70), the Australian Open ('74), and the U.S. Open ('74), all during which time suffered three major setbacks due to injuries.
While healthy, however, Julie captured the Italian Open title in 1969, defeating Lesley Turner Bowery, Ann Jones and Kerry Melville. She then went on to win three Gold Medals at the Maccabiah Games in 1969, in singles, doubles (with Marilyn Aschner), and mixed doubles (with Ed Rubinofo. She also won gold, silver and bronze medals at the 1968 Olympics in Mexico City, when tennis was yet an exhibition sport.
After retiring from tennis in 1975, Julie parlayed her incisive mind and extensive knowledge of the game into a role as color commentator and analyst for CBS at the U.S. Open in 1973, '74 and'75, even analyzing her own match against Billie Jean King during a rain delay. She then covered Wimbledon, the French and Italian Opens and several other events for NBC, working mainly with Bud Collins and Jim Simpson. Julie was the first woman to broadcast men's tennis, at the Avis Challenge Cup in 1976.
In 1979, Julie entered UCLA Law School, where she was later selected Editor of the Law Review, and named Outstanding Graduate of the Class of 1981.
Julie's husband, Bernard Weiss, is the founder and president of USA Optical Distributors, Inc., an importer and wholesaler of eyeglass frames. Julie has given up her law practice to become Vice President of her husband's firm, leaving time for her to be with their baby of two years, Amy Rebecca.
Courtesy of:
http://jewishsportshalloffame.com/Hebrew/JSHF/julie_heldman.htm