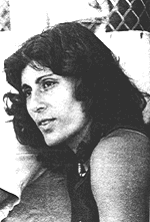 Esther Roth
(1952 - )
First Israeli to reach the Olympic finals and first member of Maccabi Union USA National champion track team.
Born April 16, 1952, in Tel Aviv, Israeli track and field star. At age 18, she was one of the best women sprinters in the world. She held the world record (7.1) for the 60-meter indoor hurdles for one day. She broke Israeli records in numerous track and field events, including the 100- and 200-meter races, long jump and pentathlon. In 1976, she became the first Israeli to reach the finals of an Olympic event.
Esther, sabra (native-born Israeli), was born to parents who emigrated to Palestine in 1940 from Moscow. She ran under her maiden name, Shachamorov, until she married Peter Roth in 1973.
At the Eighth Maccabiah Games in 1969, Esther won the 100-meter, 200-meter, and long jump. At the 1970 Asian Games in Bangkok, she won gold medals in the hurdles and pentathlon and a silver medal in the long jump.
By age 18 she was considered a top contender for the 1972 Olympics in Munich. It was everything I had lived for," she recalled. Yet when the time came, disaster struck her fellow-Israeli athletes, and she narrowly missed being part of those tragic events. Palestinian Arab terrorists struck at the Munich Olympic village, taking Israeli athletes hostage. In the end, 11 Israelis were killed in the attack. Esther Roth and the rest of the women's team escaped because their quarters were in a separate building, 200 meters away from their male teammates. "It might have been easier if we had been attacked, too," she observed later. "As it was, we did not know any more about what was happening than anyone else. There was no accurate news. The loudspeakers kept making routine announcements about sporting events. They kept playing music."
She lost her coach Amitzur Shapira, who had worked with her for seven years. After the attack she said, 'The dream was over." She had reached the 100-meter semifinal but, because of the raid, had to bow out. She was ready to hang up her track shoes: "Munich took something out of me," she remembered. "I didn't want to compete any longer."
But, in time, she did return to competition. She ran in the Ninth Maccabiah Games in 1973, and again she won the 100-meter, 200-meter, and long jump. At the time she was three months pregnant. "I didn't know, and the doctors didn't know. "But I won the gold medals anyway. I had a feeling I might have been, but wasn't absolutely sure. Anyway, my son, Yaron, had a gold medal even before he was born."
The 1974 Asian Games were scheduled for September of that year, but Esther Roth had a problem getting ready for the big event. She and husband Peter (her coach) had just become the parents of their first child in February, and Esther's training had to be limited because she had undergone a Caesarean delivery. "I only trained for three months after waiting three months from the time of the birth," she recalled. The results: she dominated the Games, winning three gold medals in the 200-meter dash, the 100-meter hurdles, and the 100-meter sprint.
At the 1976 Olympics in Montreal, Esther became the first Israeli to reach the finals of an Olympic event—she did so in the 100-meter hurdles. She had cruised through her preliminary heat and in the semifinal won fourth place in a photo finish. In the finals, she managed a sixth. Despite not taking one of the top medals, she did manage to set a new Israeli record of 13.04 for the event. She bettered that just two months later (12.93) in Berlin. The Montreal Olympics was the last major international competition for her. Israel's expulsion from the Asian Federation and the Israeli boycott of the 1980 Moscow Olympics kept her from engaging in major meets.
In 1977, she competed in the World Cup Games in Dusseldorf and in the Tenth Maccabiah Games. In the Maccabiah, she set records in the 100-meter hurdles, the 200-meters, and the 4 x 100-meter hurdles.
She was named Sportsman of the Year in Israel three times by the Israeli newspaper Ma'ariv, and once by the newspaper Yediot Aharonot. The 1976 Olympics showed that she was the greatest woman hurdler outside of Eastern Europe. Of those days, she recalled:
"Most other athletes were training two or three times as hard as I was. It's unhealthy. They pushed themselves too hard and used dangerous artificial stimulants. I enjoy my sport. I remember in Montreal how all the other athletes were tense and nervous. They couldn't understand how I was always able to laugh and joke around."
Esther has dark skin, black hair, and brown eyes. She announced her retirement from competitive athletics in September 1979, but a month later she was persuaded to reverse her decision to compete in the Moscow Olympics the following summer. She, of course, did not participate in those Games because Israel, along with other countries, boycotted them. Her last competition was in the United States just before the Moscow Olympics.
Since then, she has devoted herself to teaching athletics in a junior high school in Kfar Saba, outside Tel Aviv. She also coaches 12- and 13-year-old hopeful track stars at the same school. She gave birth to her second child, a daughter, in February of 1982. She and her family live in Herzylia.
Courtesy of:
http://jewishsportshalloffame.com/Hebrew/JSHF/EstherRoth.htm